A few nights ago, we had a pretty severe storm come through and my house lost power for an extended period of time. When it became apparent that the power might be out longer than my UPS's could support, I shut down my servers safely, and went to bed for the night.
When I woke up, the power had been restored and I booted my servers back up. Everything seemed fine until my nightly backups went to run that night. I got an error email with the following:
"vzdump 100 101 –quiet 1 –mailnotification failure –compress lzo –storage crashplan –mode snapshot"
CrashPlan is the name of my offsite backup service, and therefor what I named my ProxMox storage. While investigating, I tried recreating the storage through the ProxMox interface and then received the following error:
"create storage failed: error during cfs-locked 'file-storage_cfg' operation: storage 'crashplan' is not online (500)"
After quite a bit of trial and error, I resolved the error, but I still do not know why it worked originally. The storage I use is a share on my Windows domain controller. When I originally setup the storage in ProxMox, I configured it using the full UPN convention of username@domain. I left the "domain" field empty. I did this for multiple storages and they all worked fine. For whatever reason, this stopped working, and the resolution to my problem was to just use "username" and fill in the "domain" input.
So, to clarify, even though the following settings used to work, they now gave me an error: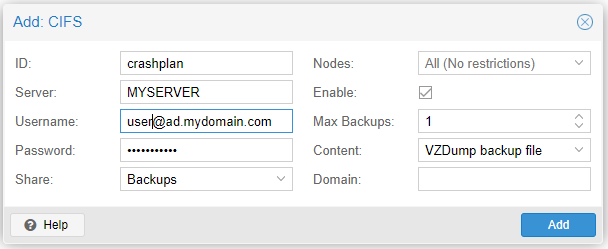 These settings worked as expected however: